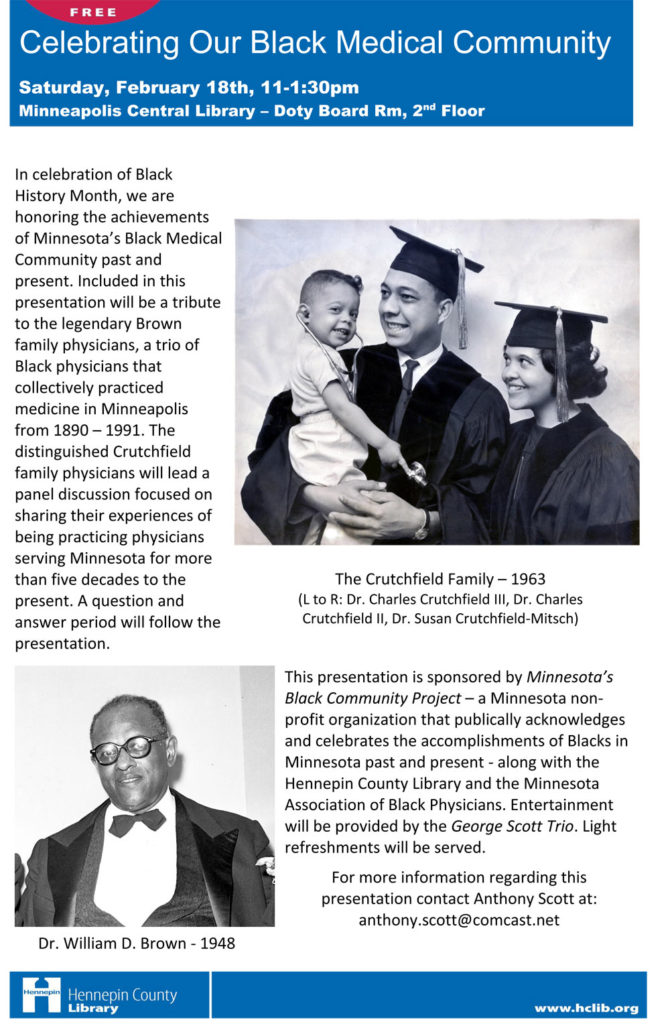 Saturday, February 18th, 11-1:30pm 2016
Minneapolis Central Library – Doty Board Rm, 2nd Floor
In celebration of Black History Month, we are honoring the achievements of Minnesota's Black Medical Community past and present. Included in this presentation will be a tribute to the legendary Brown family physicians, a trio of Black physicians that collectively practiced medicine in Minneapolis from 1890 – 1991. The distiguished Crutchfield family physicians will lead a panel discussion focused on sharing their experiences of being practicing physicions serving Minnesota for more than five decades to the present. A question and answer period will follow the presentation.
The presentation is sponsored by Minnesota's Black Community Project – a Minnesota non-profit organization that publically acknowleges and celebrates the accomplishments of Blacks in Minnesota past and present – along with the Hennepin County Library and the Minnesota Association of Black Physicians. Entertainment will be provided by the George Scott Trio. Light refreshments will be served.
For more information regarding this presentation contact Anthony Scott at: anthony.scott@comcast.net